The Vets for Test program is temporarily suspended due to the Covid-19 Pandemic. we hope to resume the program soon.


In the meanwhile, please send us your resume if you are interested in entry level roles in technology.
Use Your Military Experience
to Build a Great Career in Tech
We train, develop, and deploy teams of military veterans to test cutting-edge technologies.
Our Vets for Test program leverages the discipline, focus and drive for excellence embodied by experienced US military veterans to offer the highest level of quality assurance services for the technology community.
By training, mentoring and offering a sustainable career path for military vets and their spouses, we have built the industry's leading QA team with expertise in cutting-edge technologies such as AR, VR, mobile, consumer device testing and ground truth data services for AI.
We hire you for your ability and aptitude, then train you to develop your skills.
Our investment in our employees and the community makes us a stronger company, and our teams represent us to the world. After successful completion of our training, teams are assigned to our dedicated Q TestLab in Kirkland, WA, or one of our client sites in the greater Seattle area.
Paid Training
Upon graduation, receive paid training. Up to 4 weeks of extensive classroom and hands-on coursework at our facility in Kirkland, WA.
Employee Benefits
Access to a great employee benefits package upon successful project deployment.
Get back in the workforce
An entry point for a new career in technology.
Work with veterans
The ability to work on a program run and staffed by veterans.
We are proud to be a 2020 HIRE Vets Gold Medallion Award Recipient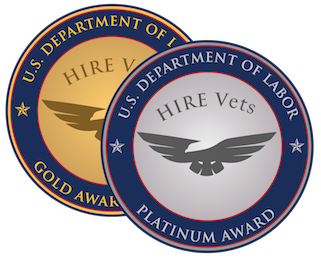 Dear Ross Fernandes:
I am pleased to extend my congratulations and offer my thanks to Q Analysts for exemplary efforts in recruiting, employing, and retaining our nation's veterans.
The Honoring Investments in Recruiting and Employing American Military Veterans (HIRE Vets) Medallion Program implements the requirements of the HIRE Vets Act of 2017 (Public Law 115-31), which President Donald J. Trump signed in May 2017. The HIRE Vets Medallion is the only federal award recognizing exceptional achievement in veteran employment. By meeting the criteria required for a Gold Medallion Award, Q Analysts demonstrated both patriotism and recognition of the value veterans bring to the workplace.
Congratulations once again! I encourage you to continue to participate in this program, and I look forward to collaborating in support of our nation's veterans in the years ahead.
Read the Press Release.
Sincerely,
John Lowry
Assistant Secretary
Veterans' Employment and Training Service (VETS)
U.S. Department of Labor
Endorsement
I would like to take this opportunity to thank Guy, Gary, and Ross for allowing me the opportunity to work for Q Analysts and given me the position at my clients' site. I have learned and grown so much since I have started the Vets for Test program. The Vets for Test program has helped prepare me for job interviews and was an intricate part of my career advancement.
I especially would like to thank Scott, not only for working with me patiently throughout the Vet for Test course, but also for writing a stellar grad school recommendation letter, which became the only testimony for my academic ability. A year ago, I came into the program with zero experience in technology. Now, I'm thriving at a tech company and getting a master's degree in software development. I'm still wrapping my head around this incredible transformation, but when I think of all the hours and planning you all have put in on teaching me and making me better, it all makes sense.
I can't thank the Vets for Test program enough, and I'd love to see more veterans take advantage of this program as I did.
Best Regards,  Luxi Meng
QUALIFICATIONS
do you have what we need?
The discipline, focus and motivation of a US military veteran.

An aptitude and passion for technology and a curiosity about how things work.  

Excellent written and verbal communication skills that can reach out to different audiences.

Strong problem-solving skills and attention to detail.

The ability to carry a testing laptop and miscellaneous testing equipment. (Participants need to be able to move equipment of up to 50 lbs. or more).

Experience with formal QA or development processes and methodologies is helpful, but not required.
There are many different ways you can work for us.
We invest in our employees and community to make us all stronger. Join our team and represent us around the world.
Send a Message
Contact us now to learn more about this unique program