We have officially rolled out KudoBoard!  A tool allowing you to praise your colleagues and boost their morale!
You will find below instructions on how to sign in and post your first shout out!
1. To activate your account contact our HR Department
hr@qanalysts.com
Please use your work email address and the following password:    QAnalysts123!
You will be prompted to create your own password for more security.
2. Press "Add to Board"
Our very first board is called Q3 – PEER TO PEER SHOUT OUTS
​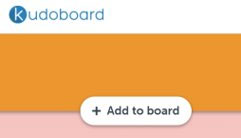 ​3. Add your first post
​​
Recommendations:​
Please read the (Kudoboard_best practices_v1

)

 guidelines before

posting your first shout out

Don't forget to mention the name of the colleague you want to praise (Press the @ symbol at the bottom right of the text box, typing the person's Email in the relevant section will pull them up to be tagged)
Make sure your praises are work/ performance related !​
Provide as much details as possible to give the rest of the company a fair reflection of the impact this employee had through their hard work.​
 Good luck and do not hesitate to email HR@qanalysts.com if you have any problems or questions!​
​-The HR Team-
​